In view of the current circumstances that the world is going through these days with the Novel Coronavirus (COVID-19) Pandemic, we at Shakespeare School have taken the necessary measures to ensure our clients and staff safety without having to stop or compromise the quality of delivery of our courses.
Hence, we are pleased to announce the 100% Fully Online CELTA course, as both the input and the Teaching Practice will be done virtually.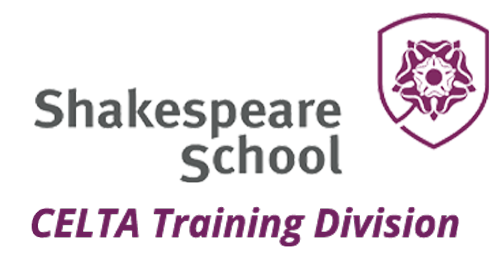 You can attend from anywhere in the world without the need of being in our center physically.
You will have the added input of Teaching online in addition to the regular CELTA curriculum.
You will get real-time full virtual support from your Online Course Tutor in addition to Online Tutorials.
You will have access to webinars, interactive tasks, participation in guided video observation and forum discussions online.
All input is delivered online and can be completed in your own time which allows easy self-study and revision.
The University of Cambridge requires candidates on all CELTA courses to teach for a total of six hours during the course. This online teaching is observed and assessed by our course tutors and is divided into 8 separate teaching slots for each candidate.
The criteria of the Online CELTA assessment and moderation is exactly the same as the full-time and part-time face-to-face courses and leads to the same qualification.
To successfully complete the course you need to spend a minimum of fifteen hours a week online to work on interactive tasks, participate in guided video observation, forum discussions and the online teaching.
Don't worry, you do not need advanced computer skills to take the online CELTA course: the ability to use email and the Internet and have basic typing skills is all that is required!
What are the advantages of the fully Online CELTA?
Accessibility: There's no need to worry about travel arrangements or costs – all you need is your screen, video conferencing tools and a comfortable work space!
Experience Online Teaching: As the CELTA is traditionally taught in a classroom, this new course type offers the added bonus of providing an insight into online teaching, which could be useful for teaching English online in the future.
An internationally recognised TEFL qualification: The CELTA is known as the golden standard of TEFL qualifications and most reputable schools look for this certificate when hiring. A CELTA will never expire and show recruiters that you understand the core principles and methodologies of teaching English as a second language.
What are the requirements for taking the CELTA 100% Online?
The requirements are the same as for taking a face-to-face CELTA. These include:
Sufficient education for entering higher education, e.g. University (otherwise life experience can be taken into account).
A high level of English language and grammar awareness, or a proficiency equivalent to an IELTS 7.5 or a high Cambridge C1.
Be at least 20 years old.
It's also important that you have access to the following at home:
A laptop or desktop computer with headphones and a microphone.
A good internet connection.
A designated and comfortable working area.
REGISTER NOW AND GET THE BENEFITS
If you register before January 3rd, 2022, you will get the CELTA Course at a discounted price.
That means...
You get a £200 discount if you register before January 3rd, 2022.
FEE
LAST MINUTE: £1000
REGULAR PRICE: £1200
The Shakespeare School CELTA application process is designed with three aims in mind:
To provide the applicant with a clear idea of what the CELTA course is, what to expect to get from it and what is required to succeed.
To ensure that once an applicant has been accepted, they have a very high chance of successfully completing the course.
To ensure those who are accepted have a high probability of qualifying for and attaining ESL teaching work in the country or city of their choice.
Be at least 20 years old
Have a standard of education that would allow you to enter university in your country
Be a native speaker of English or have a very high level of proficiency of English (you may be asked to present a language certificate that attests to at least a C1 level of English)
Have the potential to develop into an effective teacher
1. All interested trainees must complete the application form. There is NO application fee. If you are not able to successfully submit the application form, you can request an application form via email (as a word document). To ensure that you receive our emails promptly, please add [email protected] to your Allowed Emails list.
2. After reviewing your application, a member of our enrollment team will follow up by email and send you an assignment called the Pre-Interview Task. This task is a series of language and teaching activities designed to give trainees an idea of what the course is all about.
3. Once we have received your Pre-Interview Task, we will schedule a time for an interview that is convenient for you. Most interviews are conducted via ZOOM or Skype. In-person interviews are only available at our Bucharest location.
4. The interview is a chance for you to speak to an experienced CELTA trainer. The trainer will discuss your work from the Pre-Interview Task to gain a better understanding of your potential for English Language Teaching.
5. After acceptance, you must pay a 400 pounds enrollment deposit to confirm your place on the course of your choice (subject to availability—given on a first-come, first-served basis).
6. The remainder of your course fee (less the enrollment deposit) is due no later than six weeks before the beginning of the course. (Please see: Course Fees& Dates for more details.)
Please keep in mind that the entire process for applying for the CELTA courses takes some time, and that the places are limited, so it is advisable to apply early.
Complete the form bellow to apply